Robert M. Lilkendey, Principal Consultant/Owner
Rob serves as the lead consultant and main point of contact on all projects. He has over 26 years of education, research experience and practical experience in the fields of acoustics, architecture and construction. The past 20 years have been spent as a consultant in acoustics specializing in architectural acoustics, environmental noise, and HVAC system noise and vibration control on over 650 projects of all types.
His wide range of project experience and in-depth knowledge of architectural design and building construction allows him to work at the "big picture" level with the Client and key project design principals to establish the project's acoustical criteria and assist with decisions regarding space planning and overall design concepts, as well as at the "technical" level with the project Architects, Engineers and Contractors, to develop acoustical designs and solutions that are rooted in the fundamental scientific principles of acoustics, sensitive to the aesthetic needs of the project, and "reality checked" against many years of practical field  experience. (Rob_Lilkendey_Resume.pdf)
Mark LoRang, Consultant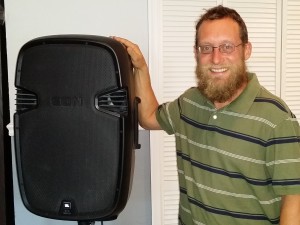 Mark has an extensive background in architectural and environmental acoustics, having worked for six years at two highly respected acoustical consulting firms prior to joining RML Acoustics in 2014. His primary responsibilities include field testing to determine the acoustical performance of building assemblies, environmental noise measurements and analysis, and interior acoustics modeling and analysis. Mark also brings over ten years of practical experience in the theater and concert realm as a stagehand, audio technician, lighting technician and audio installer.
Mark has a Bachelor of Science degree in Interdisciplinary Studies (Acoustics) from Iowa State University and completed his coursework towards a Master of Science in Architectural Studies (Acoustics) at the University of Florida.
Lana Lilkendey, Director of Marketing/Assistant to the Principal
Lana wears many hats at RML Acoustics (including hard hats), but her main role is as the Director of Marketing. She has 15 years of experience working in the field of acoustic consulting in this capacity, coordinating directly with marketing staff from Architectural firms to develop general and project specific marketing material for RFPs from Clients of all type. All marketing inquiries should be directed to Lana's attention at info@rmlacoustics.com.
Prior to her entry into the acoustical consulting industry in 2001, Lana worked at the executive level for non-profit organizations United Way and CASA in Riverside County, California. She has a Master of Business Administration degree from Phoenix University and a Bachelor of Science in Applied Management degree from Azuza Pacific University. When not working diligently at RML Acoustics, her life generally revolves around her toy poodle "Coco."